Micro-spot DUV Spectroscopic Reflectometry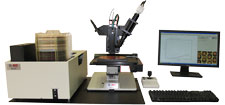 The FilmTek™ 2000 PAR is a low-cost solution for high-throughput, fully-automated mapping of patterned wafers for development and production environments. This system combines patented DUV-NIR reflectometry with wafer auto-loader and pattern recognition to deliver unmatched metrology performance at this price point.
The FilmTek™ 2000 PAR utilizes SCI's patented parabolic mirror technology to measure wavelengths from the deep ultra-violet to the near infrared with a spot size as small as 13µm.
This system comes with advanced material modeling software to make even the most rigorous of measurement tasks reliable and intuitive. FilmTek™ software includes fully user-customizable wafer mapping capabilities to rapidly generate 2D and 3D data maps of any measured parameter. In addition to user-defined patterns, standard map patterns include polar, X-Y, rθ, or linear.
FilmTek™ 2000 PAR incorporates SCI's generalized material model with advanced global optimization algorithms for simultaneous determination of multiple film characteristics within a fraction of 1 second per site.
Key Features:
Automated stage with autofocus
Automated wafer handling
Camera for imaging measurement location
Pattern recognition
50 micron spot size
Measurement Capabilities:
Simultaneous determination of:
Multiple layer thicknesses
Indices of refraction [ n(λ) ]
Extinction (absorption) coefficients [ k(λ) ]
Energy band gap [ Eg ]
Composition (e.g., %Ge in SiGe

x

, % Ga in Ga

x

In

1-x

As, %Al in Al

x

Ga

1-x

As, etc.)
Surface roughness
Constituent, void fraction
Crystallinity/Amorphization (e.g., degree of crystallinity of Poly-Si or GeSbTe films)
Film gradient
Optional Features:
Small spot size (13 µm)
Pattern recognition (Cognex)
Cassette to cassette wafer handling
SECS/GEM
Applications
Virtually all translucent films ranging in thickness from less than 100 angstroms to approximately 150 microns can be measured with high precision. Typical applications include:
Semiconductor and Dielectric materials
Multilayer optical coatings
Optical antireflection coatings
Electro-optical materials
Solar cells
Computer disks
Coated glass
Laser mirrors
Thin metals
Biomedical
Example Films
SiOx
SiNx
DLC
SOG
Photoresist
Thin metals
a-Si
a-C:H
ITO
Polysilicon
Polyimide
Low k dielectric films
Example Substrates
PET
Aluminum
Copper
Glass
Technical Specifications
Film thickness range:
3nm to 150µm
Film thickness accuracy:
±1.5Å for NIST traceable standard oxide 1000Å to 1µm
Spectral range:
190nm to 1700nm (240nm to 1000nm is standard)
Measurement spot size:
13µm to 300µm (50µm is standard)
Wafer size:
50mm to 300mm (150mm standard)
Spectral resolution:
0.3-2nm
Light source:
Regulated deuterium-halogen lamp (2,000 hrs lifetime)
Detector type:
2048 pixel Sony linear CCD array / 512 pixel cooled Hamamatsu InGaAs CCD array (NIR)
Computer:
Multi-core processor with Windows™ 7 Operating System
Measurement time:
<1 sec per site (e.g., oxide film)
Data acquisition time:
0.2 sec
Performance Specifications
Film(s)
Thickness
Measured Parameters
Precision (1σ)
Oxide / Si
200-500 Å
t
0.5 Å
500-10,000 Å
t
0.25 Å
1000 Å
t , n
0.25 Å / 0.001
Nitride / Si
200-10,000 Å
t
0.25 Å
Photoresist / Si
200-10,000 Å
t
0.5 Å
a-Si / Oxide / Si
2

00-10,000 Å

t
0.5 Å